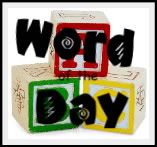 We did this along time ago but we are starting up again for the new year. I have been getting words off of dictionary.com's Word of the Day feature for a while now, giving Hunter a new word to play with every day. It has been an on-again, off-again occurrence, and we haven't been doing it in a while now, but we're back and at it again (and really excited about it).
When I first started doing this, I thought it would be a cool and logical idea, but had no idea how much fun we would have with it.
A lot of the words have resulted in a fun imaginary story to act them out and explain them, such as 
camarilla (
a group of secret and often scheming advisers),
 or deus ex machina (an agent who appears unexpectedly to solve an apparently insoluble difficulty). 
So, here we are back at it again. These are the words of the day for January (taken from the January 2009 list on dictionary.com)
"Naphtali is a hind let loose: he giveth goodly words." 
Genesis 49:21
Hunter is 4 years, 9 months old